Unique Gifts for Father's Day
Disclaimer: Affiliate links may be used in this post. You can read my full disclosure here.
With Father's Day fast approaching, I wanted to put together a list of unique gifts for the special dad in your life. So, if you're tired of giving ties, socks, & coffee mugs, then I hope this list inspires you to give a more unique gift for Father's Day! I've made it as varied as I can so there is a gift idea no matter what they are passionate about or what your price point is.
Koa Coffee – Firstly, in my completely biased opinion, coffee grown in Kona, Hawaii is the best in the world. In fact, I drink it everyday! If you have a coffee-loving father, get him some 100% Kona coffee from here.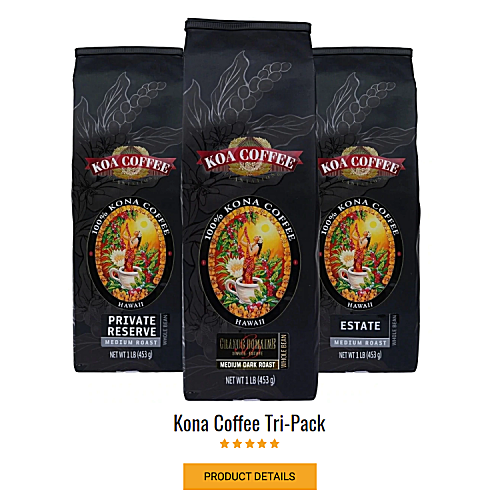 2. No Bull BBQ – Next up, are rubs, sauces, & jerky! You can buy items individually or they have pre-made gift boxes. Perfect for the grill or pit master in your life to spice things up.
3. Universal Yums – It's a subscription box where each month features a different country's snacks and sweets, along with a little info booklet. For instance, I bought a 3 month subscription of this for my parents and they loved telling me about every snack they tried! Great for those who are well-traveled or eat adventurously.
4. The Original Craft Beer Club – It's a subscription box that comes with 12 craft beers each month. You can pick the styles of beer you want & how many months you want to receive them. For the adventurous beer lover in your life.
5. Hot Sauces from Around the World – A variety box of hot sauces inspired from flavors around the world. So, if you have a spice-loving dad, this is a useful and fun gift to get him.
6. Funky Eyeglass Holder – Is he always misplacing his glasses? Well, this gift will keep them on a face when they're not on his face. Also, it's kind of cute AND funny at the same time.
7. Breakfast Sandwich Maker – This all-in-one device cooks everything for your breakfast sandwich, from eggs to meat to whichever bread you choose. For anyone that loves a good, hot breakfast and a cool gadget.
8. Hey Dude Shoes – These light, comfortable slip-ons are great for fathers of any age. In addition, they come in a huge variety of colors, patterns, & materials so you can find a pair for anyone.
9. Ooni Pizza Oven – An outdoor pizza oven to add to his outdoor cooking repertoire! They have wood & gas burning and small or large versions to choose from. So, get to making those homemade pies in style!
10. Apple iPad – Lastly, this gift was inspired by my Pawpaw, for whom I have the HARDEST time buying gifts for. I feel that the other nine gifts on this list are good fits for just about anyone, but for those fathers that have everything they need & don't really WANT anything, this is a wonderful Father's Day gift for them. It's actually been my most successful gift so far!
Finally, I hope that this list of unique Father's Day gifts does inspire you to think outside the box for your next gift. What have been your most successful gift given? Let me know in the comments below!